Contenido de la página principal
Pulsa para colapsar
Improved interface and navigation
New interface.
Improved user experience on any device.
New item "Sites" to access your subjects or sites.
User profile information menu.
New site tools design.

Site arrange
From "Sites" you can easily access all your sites (even the hidden ones), and mark and reorder your favorite sites.
The top bar of the main menu shows the sites marked as favorites (to mark a site as a favorite, just click the star next to the name of the site).
From "My Workspace - Preferences" you can click on "Sites" and hide the ones that you don't want to see.
Lessons
More accessible editing options, appearing now to the right of any element.
Now you can add elements anywhere on the page. A "+" button has been added which allows you to add an item directly above the selected one.
Back and forward buttons at the bottom of the page.
New "Checklists" feature.
Sections can be expanded and collapsed.
You can add a level of indentation and a custom CSS style in the linked elements (subpages, tasks, exams ...).
Assignments
An email notification can be sent to announce the opening date of an assignment.
Peer assessments:

The student can add attachments when reviewing assignments from classmates.
The teacher has the average grade of the reviews made on an assignment.
Messages
You can establish a specific configuration to grant different permissions in the sending of mails to recipients (permissions to send mails to a single group, to specific users ...)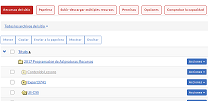 Resources
News buttons and styles.
Access to recycle bin through a button in the top menu.
Tests & Quizzes
New question type: INTERACTIVE IMAGE. It allows interacting with an image by marking zones that are part of the solution.
Activity report: detailed information about the student exams and marks.
The teacher can attach files for the student when correcting a test.
Visual improvements when answering test type questions, shading the option when the mouse pass over.
New drop-down panel for the student where he can see the test progress.

Chat
You can activate the space chat in order to interact with active users at any time.